So, what's on the docket other than the monstrous blue quilt? (which, on the binding front now has all but a foot of the 3rd side done ... it's getting there!)
First up is the top I'm working on now using this Jelly Roll:
Next up is a quilt using 2 jelly rolls, a charm pack and this yardage - all from the same line, but I'm just showing you these since I think they're the best fabrics in the line. It's from The Hamptons by Minnick & Simpson for Moda.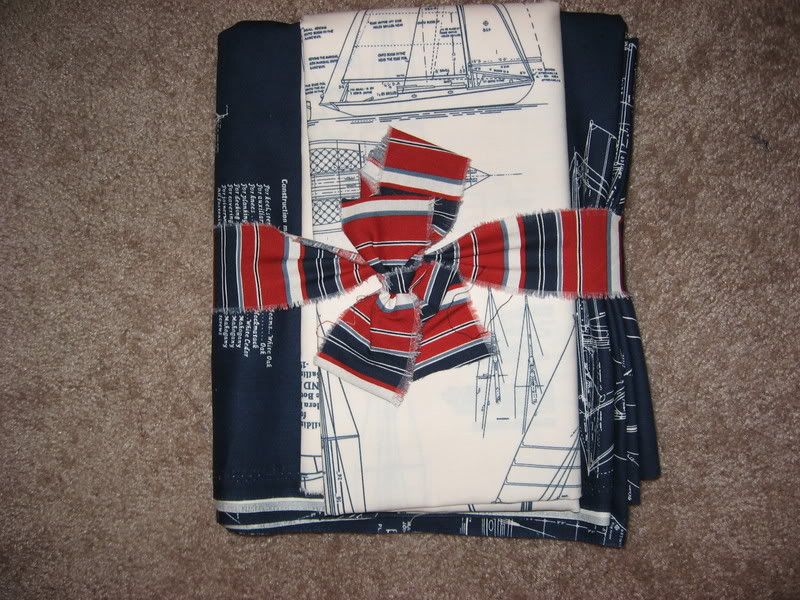 You don't even want to know how much difficulty I had getting ahold of the fabrics from this line. It came out in October 2007. I wasn't allowing myself to look at fabric partially because I didn't know where to find the good stuff and partially because I didn't have money to spend on it anyways. I saw a project someone else completed and noticed the blueprint fabric and fell in love. I grew up in a town right on a large lake and it hosts a large scale sailboat race each summer. Sailboats are just part of my childhood and my dad loves going down by the river (it opens out to the lake) to watch the boats and freightors go by. I thought this would be perfect to make a quilt for him - problem was, it was gone. Every site I went to was out. I found a fat quarter bundle, went back to get it the next day and it was gone. I finally found a store that had a couple jelly rolls, so I snatched those up, but needed to find the blueprint. All I could find was white with red printing, which was definitely NOT what I wanted. After about 12 hours of searching (over many days, not in a row), a mishandled order by a store in NC, and lots of frustration, I finally found some on eBay and snapped it up. I now have enough for his quilt (pattern TBD) and to make placemats for myself for my kitchen, which will be nautical themed.
After all the headaches, it was worth it. The jelly roll pictured above was also from a line that was released last fall that I loved (Scaredy Cat by Minnick & Simpson for Moda) but didn't let myself buy because of money. That was considerably easier to find and I was able to get matching yardage to complete a top - and it was on sale. Woo hoo!
I don't know what the moral of the story is because I couldn't have bought these last year because I didn't have the money. Looking at them now that they're in my possession, especially the blue boat blueprint fabric, it was totally worth the stress because it's perfect.
Got any stories about harried searched for the perfect fabric? Any fabric that you just missed out on and regret snatching up? I'd love to hear them!
Needless to say, after those splurges, no fabric purchases for a very long time. I pretty much used my "fabric budget" for the year on those, but that's okay (and don't panic, I do have a very small budget and I'm okay with that) Besides, I don't want to have tons of stash and no projects to show for it. I really need to get my projects done that are in the que before bringing in more fabric!