Maybe a once a month update works for me .... I really don't know how people do it! I just can't manage to blog more than that. If I really pushed it, I might be able to handle once a week, but seriously! I work full time, I have 2 90 minute dance classes + home practice and workouts, my quilting and Lord knows what else .... blogging really has fallen by the wayside!

Anyways, I have been working on a project, a quilted wall hanging for one of the dad's in my dance studio. He's a bagpiper and wanted a wall quilt with shirts from some of last year's highland games.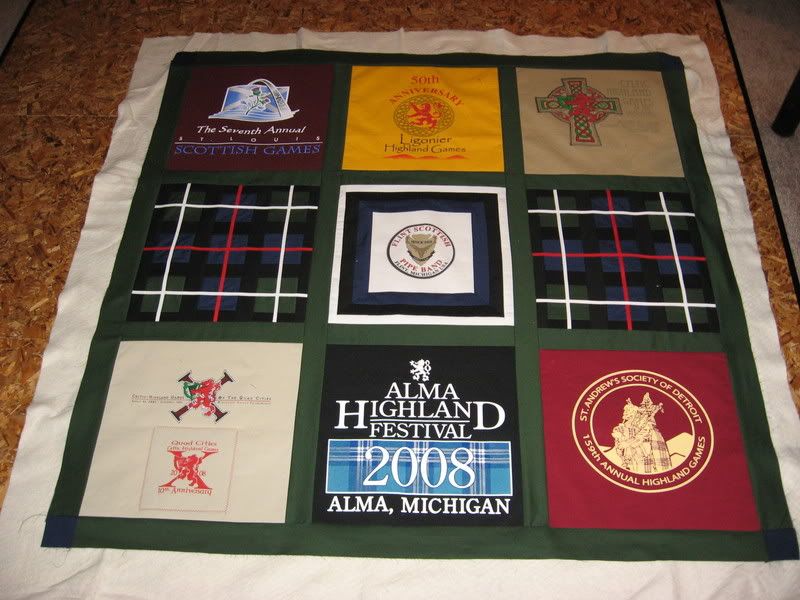 The middle row features 2 quilt blocks of my own design - I loosely replicated the tartan that the band wears for their kilts and the middle square is the band logo. It just needs to be sandwiched, quilted and bound. Then I'll also put a hanging sleeve on as well.
After that, I have 3 baby quilts - friends of mine are expecting triplets. I have the fabric and have started cutting. I'm using the 5 funky monkeys line moda came out with a while ago - I was able to score a ton of it on eBay, so here's hoping those go together quickly. The babies will probably arrive in Mid-April.
I did break my resolution of not buying fabric without purchase. I wandered into a new quilt shop over the weekend and they just happened to be celebrating the Super Bowl weekend by offering 10% off EVERYTHING. A layer cake of Urban Couture by Basic Grey and a yard and a half of matching yardage (I got 20% off of it for finishing the bolt) came home with me.
Anyone know any good layer cake patterns? oops!